As we have well established in the past, I am a pretty good wife. I not only accepted that my husband wanted bees, I've learned to love them and become totally absorbed in them. I throw him a Super Bowl Party every year. And I not only hunt, fish, and ride motorcycles, I also willingly participate in pretty much every cock-a-mamie scheme he comes up with. Take tonight, for example.

My wonderful husband walks in an announces "I'm going to take down that branch that hangs over the driveway that's been bothering you." I looked up at him. "Well, that's great. Need my help?" - never expecting in a million years that he would actually say yes. He pulled up his pants, puffed out his chest and said "I thought I'd drive the back hoe down there and lift you up in the bucket. You'll be able to cut it down a lot easier that way." What the...... "Lift ME up??? I thought you said YOU were going to take down that branch????" He looked at me ever so tenderly and said "I figured it would be a lot safer if I lift YOU in the back hoe than if you lift me." He had a point. I don't know how to operate that back hoe very well yet. I mean I could do it, but I couldn't insure he'd be heading up or down in the bucket right at first. I am struggling with what is up and what is down with that bucket right now.

It was getting dark, so I reluctantly agreed. We headed down and Bernie positioned the backhoe exactly where it needed to be:




He hoisted me up and I snapped a picture along the way:




The branch hung over the road - which seemed a lot further up than I remembered it: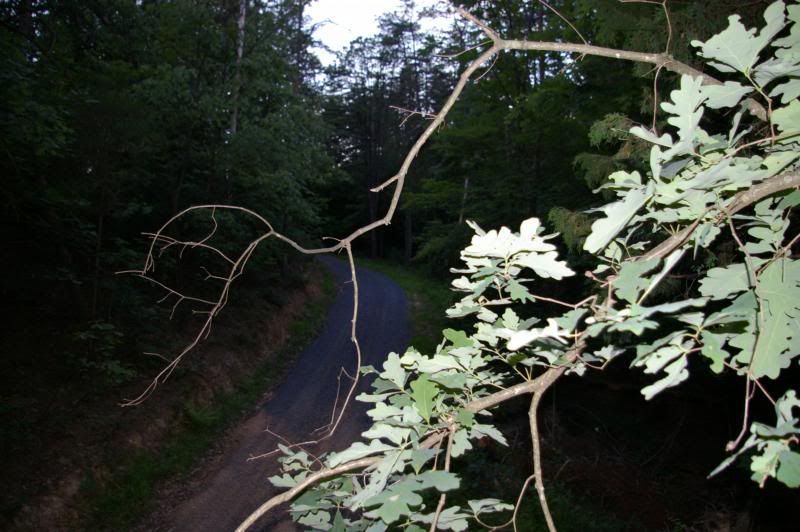 I thought Bernie looked a lot more smug than he should have at this point: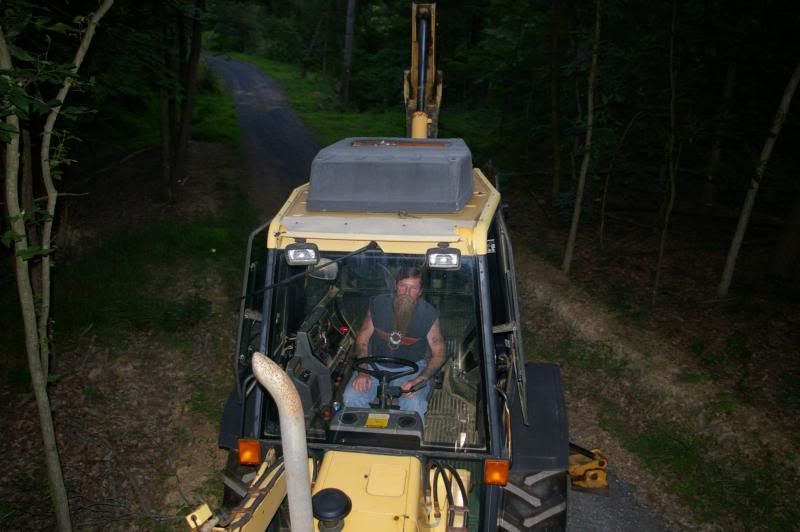 I swear I sawed on that stupid branch half the night:




And then I got it! It fell to the ground!




Bernie lowered the bucket and rode me back up to the house:




If this is not proof of what a good wife I am, I don't know what is. That Bernie is one lucky man. And I never cease to remind him of it.

Bee free!
Penny